St. Patrick's Day Savannah
Insider's Guide to St Patrick's Day in Savannah
Friday, March 13-15, 2020
Every year, people from around the world travel to Savannah for one of the most celebrated events of the year: Savannah St. Patrick's Day! With so many exciting celebrations surrounding St. Patrick's Day, we're here to help provide you with everything you need to navigate through St. Patrick's Day in Savannah. Check out our St. Patrick's Day guide below for tips on what to see, where to eat, where to stay, and much more!
The official Savannah St. Patrick's Day festivities will kick off Friday, March 13, and continue throughout the weekend. The 195th Savannah St. Patrick's Day Parade will take place Tuesday, March 17. We will continue to keep you updated on the latest St. Patrick's Day announcements, so check back here often for the latest. We hope you'll join us for one of the most anticipated Savannah events of the year. Erin Go Bragh!
St. Patrick's Day Parade
March 17, 2020 | 10:15am | Free
The 2020 Savannah St. Patrick's Day Parade will take place on Saturday, March 17, 2020, and will begin promptly at 10:15 am. Join the fun at this exciting display of spirited floats, cars, bands, and performers in Downtown Savannah. To view the official 2020 Parade Route, click here. Be sure to reserve your viewing spot early in the day, as many locals and visitors alike will begin lining up early. Our recommended best place for watching the parade is in the famous historic Savannah squares, but spots fill up fast, so plan to get there early. Spectators will not be allowed to set up items any earlier than 6 am.
Parade Bleachers
The City of Savannah will offer bleacher seating again this year throughout the parade route for $30-$45 per person, depending on your preferred viewing location and date of purchase. Corporate seating is also available that accommodates 50 people. To reserve bleacher seating, please visit the Parade Committee website.
Savannah St. Patrick's Day Rules
We want everyone to have a memorable and fun St. Patrick's Day in Savannah, but there are a few rules to keep in mind during your stay:
Keep alcohol in paper, plastic, or styrofoam cups. Glass bottles are prohibited on the street.
Do not carry a drink over 16 ounces outside, and please only carry one drink at a time.
Do not drink on the street inside of the festival area without a wristband (if applicable).
Do not camp out in the Savannah squares overnight. Squares will be off limits to everyone until 6am on the morning of the parade.
Do not bring animals inside the festival area.
Wristband Policy
Each year the City of Savannah has established a wristband policy within the Savannah St. Patrick's Day festival zone. Below are the top 5 things to know about this year's St. Patrick's Day wristband policy as well as the official festival zone map.
Wristbands are available for purchase throughout the city at designated white tents. Please see map below.
Wristbands are $10 per day.
Wristbands are needed if you plan to drink in the festival control zone.
Wristbands will NOT be enforced during the parade hours on Friday.
Wristbands must be purchased each day. The wristband tents open at 10 am starting Friday, March 13 – Sunday, March 15.
Where to Stay
Hotel rooms book up quickly during Savannah St. Patrick's Day weekend, so be sure to book your stay well in advance! Please choose from any of our five preferred Savannah hotel partners below to see rates and availability for the festivities, or call (912) 721.2305.
Where to Eat & Drink
There are endless choices for places to eat and drink during your stay in Savannah, including great Savannah pubs and bars where you're sure to feel the luck o' the Irish. Check out our full list of local restaurants and nightlife to enjoy during St. Patrick's Day. Many of these locations are in downtown Savannah and within walking distance of the festival area.
Parking, Shuttles & Ferries
Parking in Savannah during the St. Patrick's Day celebration is extremely difficult. In addition to the numerous parking lots and garages available for this event, the City of Savannah will also provide a number of alternatives to parking downtown. Specific route schedules will be posted as information becomes available. For information on parking, shuttles, and ferries, please visit the following websites: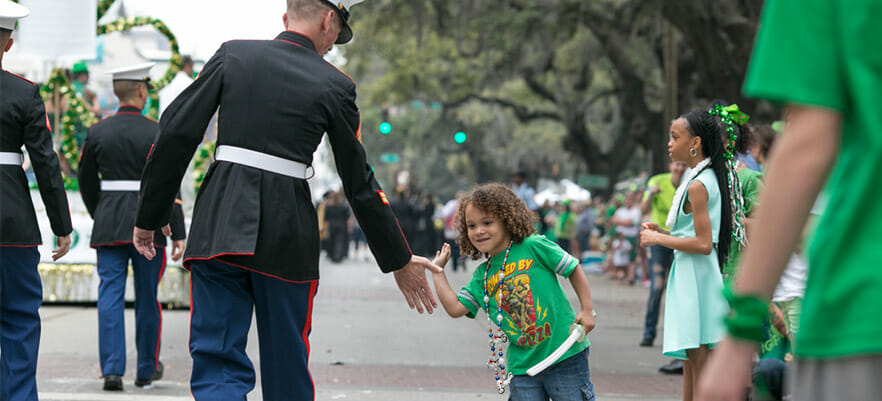 Live Music
The 2020 Savannah St. Patrick's Day festival will be packed with live music and performances the entire weekend. In years past, River Street, City Market, and Ellis Square have all had live music stages.